Your raised vegetable garden will need to be in a spot that gets sun most of the day. Vegetables need sun. It can be on the ground or on concrete. That's your choosing. This project can be built from recycled fence palings in decent shape or brand new. Timber slats, metal sheeting, garden sleepers (see picture), the options are many. You can use old posts 100x100mm (4x4in) pieces of timber for the corners of the boxes. Cut them to be at least the same height or 6 inches deeper than the box. The old fence palings nailed to the corner posts are all thats needed.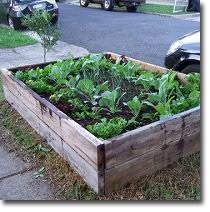 Find the location where you plan to put the box. When you have decided, where you will place the box. Dig out for the corner posts or just sit it on level ground. If your vege-garden must be on a slope, the bed needs to be built so that it is level. Once the box is set, put in some weed cloth and put it in the bottom of the bed. Staple it to the sides of the box if you want. This is to keep out the weeds from growing up from below.You can use old newspaper, lots of it as weed control. Check out this backyard.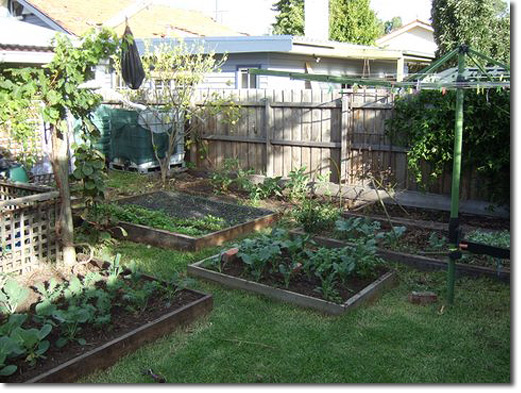 Then, bring in some planting mix for soil. It is usually measured in cubic metres (feet) Length x width x depth in mm (inches) will give you the quantity required. (A bed 1.2 x 0.9 x.03 will need a third of a cubic metre) Use a wheel barrow or park close to the box and start filling it up. Stand on it to pack it down. Leave about 50mm (2 inches) from the top.
Find the closest watering source. Put a digital battery operated timer on to it. Use 1/2″ poly pipe, that can be found at the local hardware store to get water to the bed then connect to the sprayers. Your hardware store man will help you with what you will need. Then use 1/4″ poly tubing with connectors to go to low volume sprayers. Or run your hose to a connecter in the bed. Be sure that it is watering the box(es) entirely. Make sure you plant your seeds or plants that are for the right season. Don't forget to mulch the garden bed to conserve water and help with weed control.
Have fun watching your garden grow. Teach your children and others what you've creating to share your information. This will help them to save money, grow healthy food, plus it's great exercise physically emotionally.
Moved Permanently
The document has moved here.